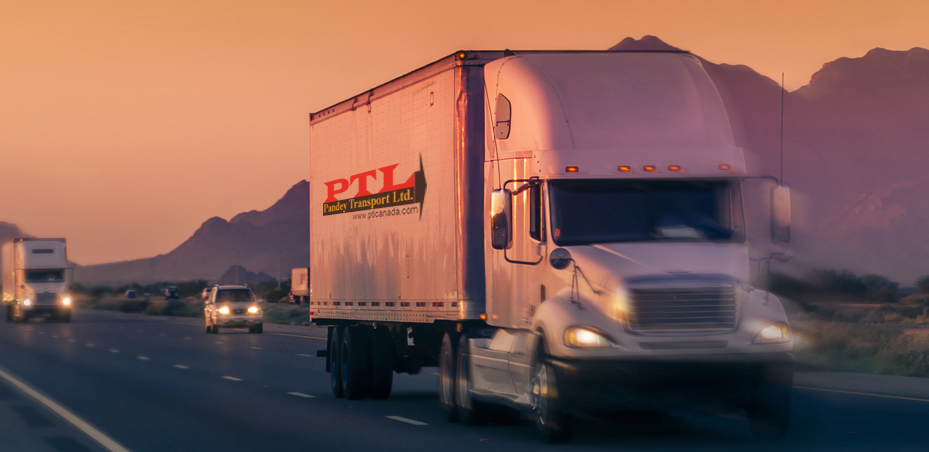 PTL is a trucking company based out of the Toronto, Canada area. We are a fast growing one which gives us a level of customer service flexibility that larger companies don't enjoy because of their sheer size and bureaucracy. We continue to expand at a well managed pace and we continually strive to out-service the competition and we are committed to your satisfaction.
Staffed by an experienced team of customer-focused transportation professionals, we have the knowledge and expertise to help your company succeed. We do this by paying attention to details and sticking to the basics and our trucking services start and end with the highest level of customer service. As a trucking company and as a team, we care about your business.
Pandey Transport Ltd. emphasizes heavily on satisfying the clients through its services of transportation and logistics. PTL is all about changing the meanings of logistics and it believes in not only delivering the goods in-time but delivering the goods with minimum consumption of time along with the visibility of shipments at any time from the pick-up till delivery to the desired place, with-in the time expressed.
PTL provides the best possible services regarding logistics and transportation. We do not believe in our work done until the customer is satisfied. Its task is to take care of its customers at its very best along with the report for the customer to make its tasks easy and efficient in the future. Many transporters and logistic companies are providing their services but we are here not to just deliver but to take it to the whole new level where client has no worries at all about the safety of the shipment and its timely delivery.
Are you searching for a dependable Canadian trucking company who's serious about your business? An experienced customer service representative is standing by to answer any question you may have. Contact us today for a free evaluation of your shipping program or for a free quotation on your next shipment.

Dedicated to Providing Solutions and Building Relationships. At PTL, our mission statement not only reflects and highlights our desire to serve our customers, it governs the way we conduct our business. It gives us direction when we have to make service related decisions.
We are emphasizing on visibility of shipment as it is very important for any client to know whereabouts of his shipment. It gives us satisfaction to see our clients through with the process of transportation and logistics satisfactorily as they are able to check their shipment at any time that what is it actual position at some specific time and what was our commitment regarding that particular shipment at that particular time. It is becoming our trademark as the time and business ethics are evolving that we do what we commit to our client and sometimes beyond our commitments for the sake of customer's satisfaction and his desires.
Transporting everything or anything is not the pride but the actual pride is to transport and deliver accurately and efficiently according to the requirements and desires of the client for that we are proud to claim that we do transport and deliver as client desires with accuracy and efficiency along with the specialty of shipment visibility at any time with most accurate ETA. For the purpose of to deliver most satisfactory results to our client we use every possible mean of transportation to over-come any time related or efficiency related issues by using our own means as well as using the means of our allies and associates and where the long road or highways are concern we do not hesitate to use rail-roads as well.
We are special in terms of LTL (less than truckload) and Special loading; it may include the specific items which cannot be transported on general transportation means.
Our motto is not to provide just transportation but we are here to give solution and relationships regarding logistics using minimum resources of our customers and applying those resources with efficient work and finish it with accurate time along with best possible services. It is our pride that we are offering LTL (less than truckload) service along with TL, which is very common. We carry everything and from everywhere to anywhere in whole Canada with complete solution of any kind of logistic issue or problem. We very much believe that the driver is very important in transportation that's why we choose the very best of the best drivers; who have technical understandings of trucks, for our clients. Along the drivers with technical understanding, the overall process becomes handy and time saving and it is being noticed that the drivers should have the technical understanding, we emphasize on their trainings along with the training of mechanical understanding and ability to quick response to any problem occur during the course.
Pandey Transport Ltd. emphasizes heavily on satisfying the clients through its services of transportation and logistics